Professional Email Translation Services
Overcome language barriers and communicate more effectively with customers and colleagues from around the globe with fast, efficient, and affordable email translations.
Get in touch today, and we will help make your marketing emails, newsletters, transactional emails, and technical support emails easy to understand in over 110 language pairs!
In addition to email translation, we offer legal, medical, technical, business, finance, marketing, and other translation services by certified native‑speaking experts.
Order email translation From $0.09 per word with fast delivery
I agree to receive updates my subscription, promo emails and and special offers (you can unsubscribe at any time)
Translated by a professional
Expedited turnaround available
Delivered in editable format
Free revisions included
Why Choose Our Email Translation Service
Fair prices

Full automation of all translation and editing operations allows us to cut costs significantly compared to traditional translation agencies.

Free revisions

Our services are covered with a free revisions guarantee, so you can rest easy knowing we will adjust the translation to your satisfaction.

Swift turnaround

We have two decades of experience translating emails for various industries, allowing us to deliver quality translations in just 2 hours.

Targeted approach

At translate.com, you can have an unlimited number of professional emails translated into five different language pairs in one order.

Translation memory

The use of translation memory enables us to track repeat phrases and reuse approved translations, so you only pay for new data.

Personalized options

Have more complex needs? Talk to one of our support representatives now and see how we can help streamline your business.
How we protect customer information
General Data Protection Regulation
Data Encryption and Access Control
Cost of Email Translation Services
No monthly payment
Unlimited words
$0.08/word
$0.09/word overage
$0.09/word
$0.09/word overage
Priority customer support
Latest Reviews
Our success is determined by how satisfied our clients are with the translations they are getting. Take a look at what they have to say.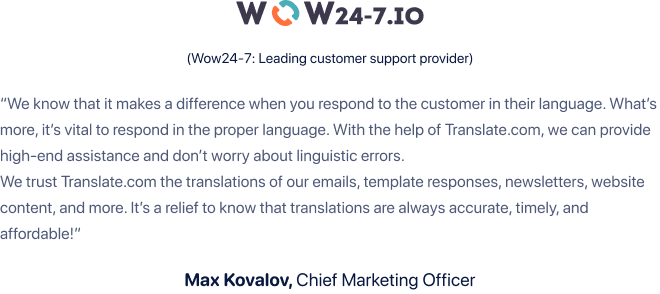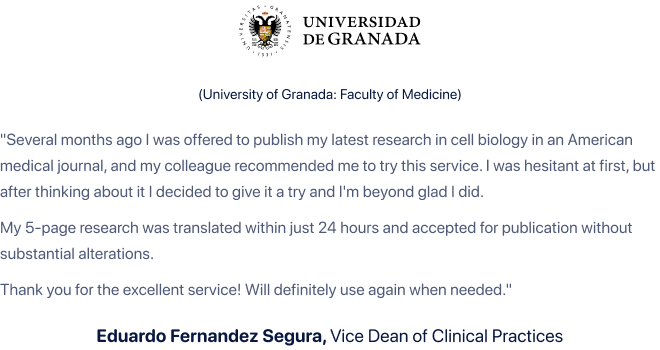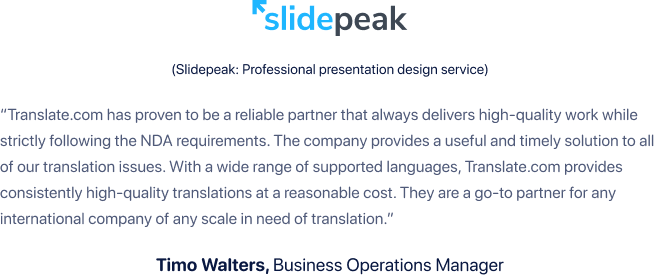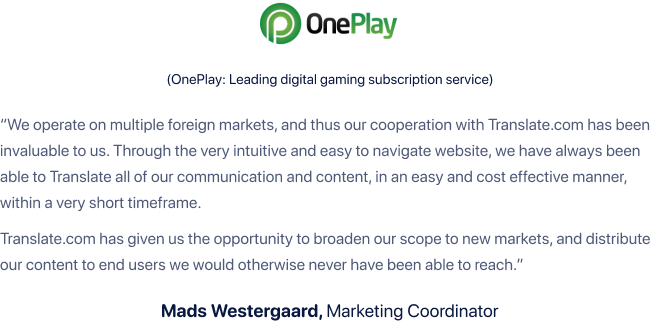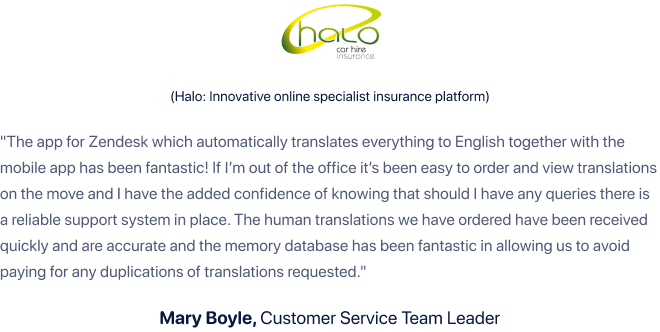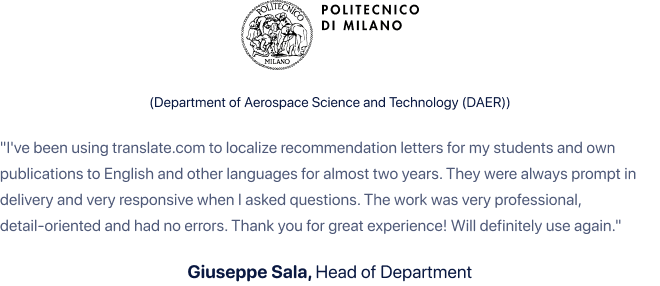 Volume discount: $0.04/word
Newsletter translation

We can help grow your brand loyalty and customer engagement with properly localized emails that resonate with your audience.

Translation of marketing emails

With our email translation services, you can translate any email message into 110+ language pairs with high quality and speed.

Translation of tech support emails

No matter the market you want to expand into, we can confidently help you respond to client inquiries and tech support tickets.

Translation of transactional emails

Whether you need notifications, updates, system alerts, or any other messages translated, our translator team is at your service 24/7.

Translation of surveys & questionnaires

Thousands of clients rely on us for linguistically fluent and technically precise translations of surveys, questionnaires, and other collateral.

Translation of other content

Translate.com has a large team of professional translators with extensive expertise in a variety of fields. Contact us now, and let's discuss how we can address your specific needs.
How to translate an email?
Translate.com email translation service can be used to translate a single text or several texts in a file. To translate a single text, please fill out the order form. To translate a file, make a quote here. We'll reach back to you shortly with a price and a time estimate.
How can I get a translation of an email?
To take advantage of professional email translations, please fill out the order form. This will take you roughly 10 seconds, including a payment. An email translation within up to 10 hours will cost no more than $0.09 per word.
Can you translate an email in Outlook?
It's impossible to translate incoming emails directly in Outlook. You can translate your email text for free using machine translation here.
Can you translate an email on iPhone?
It's impossible to translate incoming emails directly on iPhone. You can translate your email for free using machine translation here.
Do you provide translation services to job offer letters?
Yes, Translate.com provides job offer letter translation services across 110+ language pairs. Prices start from $0.09 per word.
Where do you serve your services for the letter translation?
Translate.com is an international translation company providing professional translation services for customers from all over the world. Our clients are from the United States, Canada, the United Kingdom, Greece, Sweden, Germany, Italy, Brazil, Australia, Singapore, and China. We work with more than 110 language pairs, always fit into the schedule, provide a quality guarantee, and can revise translations.
What are the various factors that affect the rate of letter translation?
There are several factors that affect the price of email translation services:
Urgency - If your order isn't urgent, the price remains the same.
Topic and terminology difficulty - Translation of difficult technical and medical topics may cost more.
Languages - Translation from or into rare languages costs more (up to $0.09 per word.)
Text accessibility - Scanned texts and those that are unable to be copied and pasted will require an additional fee for tying the text.
Final text formatting - A translated text won't have any styling, margins, and hyperlinks. Formatting of the final text will cost extra.