Online Business Document Translation Service
For almost two decades, Translate.com has been providing business document translation services in more than 110 language pairs to companies of all sizes. Our professional translators cover a wide range of document types, including business plans, marketing materials, annual reports, and more.
Contact us today, and we will help put your company in the best position for global expansion!
We only partner with established experts in the field and offer a multi‑phase quality assurance process to ensure 100% accuracy of all sentence and document translations.
Order business translation From $0.09 per word with fast delivery
I agree to receive updates my subscription, promo emails and and special offers (you can unsubscribe at any time)
Translated by a professional
Expedited turnaround available
Delivered in editable format
Free revisions included
Why Choose Our Business Translation Agency
Guaranteed affordability

Our highly automated processes allow us to offer high‑quality business translation services at a competitive price.

Unbeatable quality

We are committed to the highest quality standards and provide free revisions to every translated project.

Quick turnaround

Vast market expertise and optimized workflow allow us to deliver high‑volume translation orders in just a few hours.

Wide range of languages

With over 110 language pairs covered, we can provide translations in up to five linguistic pairs in one order.

Translation memory

We utilize the latest translation memory tools to speed up the translation process and save time and money.

On‑demand services

In addition to business translation services, we offer a range of on‑demand services. Please contact our support team to find out more.
General Data Protection Regulation
Data Encryption and Access Control
Client Feedback
We've helped thousands of companies build proper communication with customers worldwide. Check what they are saying.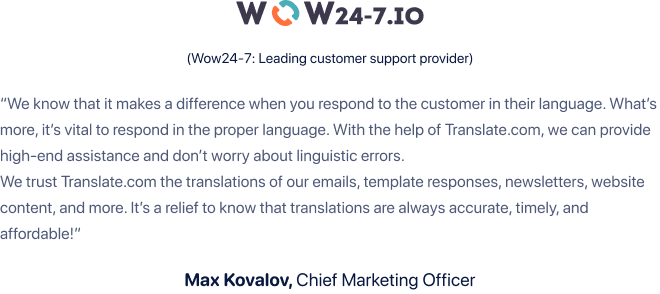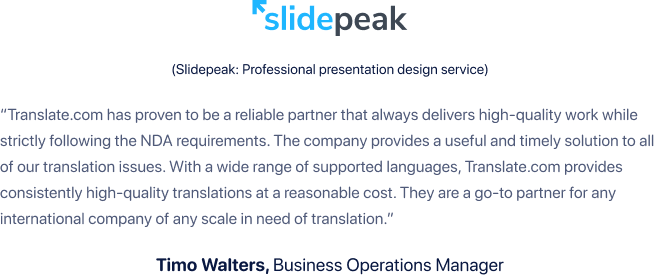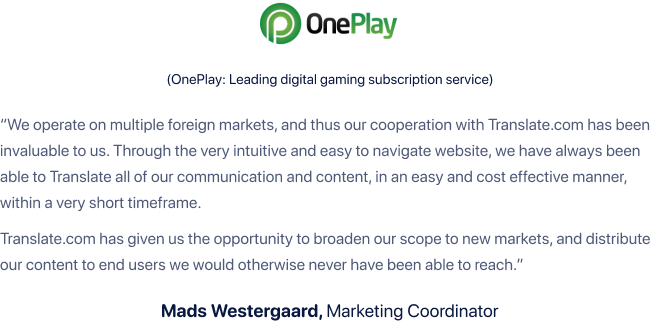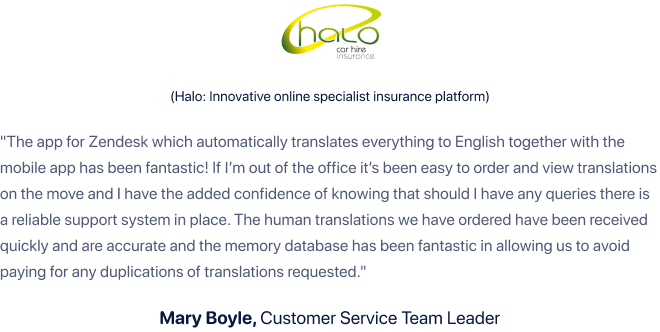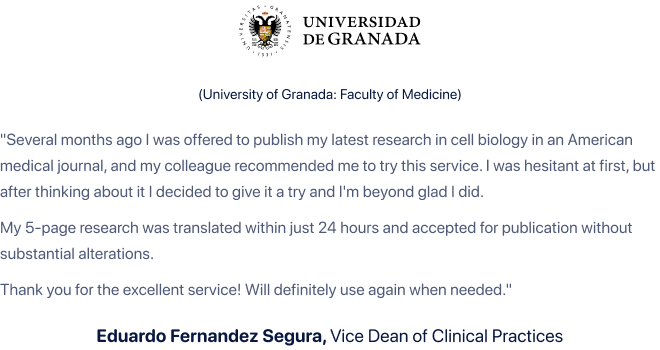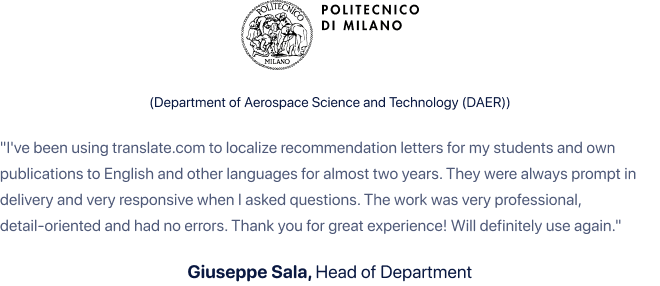 Volume discount: $0.04/word
Our Professional Business Translation Services
Advertising & marketing translation

We always have a qualified expert available to translate blog articles, brochures, press releases, or any kind of advertising campaign.

Website & SEO translation

We engage only native translators with domain expertise to ensure your website reads fluently and naturally and resonates with your clients.

Legal & financial translation

Our global translation team can help you understand proceedings better, access legal or financial advice, and make your views heard.

Technical translation

Whether you need a manual, software, or app translated, be sure it will be technically accurate and easy to understand.

Formal document translation

From research documents and business plans to scientific reports, our translator can transform your copy into whichever language you desire.

PowerPoint presentation translation

With our translation business services, your presentation project will be addressed in the most confidential and professional manner.
Other content translation
If you would like to find out more about other content types that we translate or need a custom solution, please contact us.
Comprehensive Business Translation Services for Global Success
Business translation requires a professional and complex approach to guarantee high quality and accuracy. With our business translation service, you can let go of all doubts and worries about your documents or particular content. Our team will handle your translation request and provide you with top-level translation services.
Why Does Accurate Business Translation Matter?
Accurate business language translation is vital for several reasons. First of all, the quality of corporate translation can affect the company's reputation. Secondly, perfect translation is a key to better communication with partners or customers. Thirdly, accurate business translation helps maintain professionalism, which is important for business interactions.
Besides, business translation will be extremely useful for globalizing your business. In this case, translation accuracy will guarantee your services or products will be properly offered to your international customers.
What to Consider While Choosing a Business Translation Service
It's significant to pay attention to several factors when selecting the best business translation service:
Specializations and fields the company works with: check whether the translation agency can handle your request.
Certification and security guarantee. This is extremely important if you do not want your information to fall into the wrong hands.
Quality assurance and expertise. It's better to learn more about the company. Look through the testimonials, client feedback, years of experience, and so on.
Cost of services. Pricing is no less important than other criteria. The cost of services should be competitive. It will also be beneficial if the service provides subscriptions or discounts for clients.
Turnaround time. Adherence to deadlines and quick delivery options make sense, especially when you have tight deadlines.
Customer support. If the support team works effectively, you will get all the answers to your questions, and they will not leave you without feedback.
Our company meets all these criteria. We are constantly working on improving our content translation service. With Translate.com's expertise and professional staff, you will overcome all challenges and get top-quality translations of your business and corporate documents.
Reasons for Choosing Us
Affordable price. Our business translations company guarantees high quality at a competitive price thanks to automated processes.
Translation memory and glossary help our business language translators work on your orders fast and efficiently.
Cost-effectiveness. Hiring our experienced translators is profitable for several reasons. You save money and time and get top-quality translation services for business.
Quick turnaround. Years of expertise in this market, professional staff, and optimized workflow make it possible to deliver corporate translations within hours (and it does not harm the quality).
Variety of languages. You can choose from more than 110 language pairs for your company translation. What's more, ordering 5 language pairs in one go is possible.
Personalized pricing plans. Look through our subscription plans for business translation services. But if you own a large business with specific needs, contact us, and we will discuss the details of a custom plan.
Documents and Content We Work With
Business translation involves a wide range of documents. Each of them has specific formatting and other features that the translator needs to consider while working on your order. Our business translation agency aims to meet all the requirements of our clients, so we provide translation for a variety of content and types of documents, including:
Legal and financial documents;
Website content;
SEO translations;
Formal documents;
Advertising and marketing content;
Technical documents;
PowerPoint presentations.
Try our business language services right now; we will provide effective solutions for your business.