Online Business Document Translation Service
For almost two decades, Translate.com has been providing business document translation services in more than 60 languages to companies of all sizes. Our professional translators cover a wide range of document types, including business plans, marketing materials, annual reports, and more.
Contact us today, and we will help put your company in the best position for global expansion!
We only partner with established experts in the field and offer a multi‑phase quality assurance process to ensure 100% accuracy of all sentence and document translations.
Order business translation $0.08 per word with fast delivery
Translated by a professional
Expedited turnaround available
Delivered in editable format
Free revisions included
Our Language Experts
Translate.com employs over 25,000 business language translation experts and native‑language editors from over 60 countries.
Jamal
Arabic, Farsi translator
4 years with Translate
politics
technologies
relationship
NDA signed
Claude
French, Dutch translator
5 years with Translate
NDA signed
Greta
German translator
4 years with Translate
finance
entertainment
nutrition
NDA signed
Vikram
Hindi translator
3 years with Translate
nutrition
parenting
technologies
NDA signed
Sari
Indonesian, Russian editor
3 years with Translate
business
nutrition
finance
NDA signed
Yuki
Japanese translator
4 years with Translate
NDA signed
Xia
Chinese translator
4 years with Translate
NDA signed
Bernardo
Italian, Spanish translator
5 years with Translate
technologies
politics
travel
NDA signed
Jeanelle
Filipino translator
4 years with Translate
relationship
nutrition
culture
NDA signed
Kaiyen
Korean translator
5 years with Translate
finance
business
entertainment
NDA signed
Aisha
Malay editor
7 years with Translate
NDA signed
Carlos
Spanish, Portuguese translator
4 years with Translate
politics
technologies
travel
NDA signed
Mehmet
Turkish translator
6 years with Translate
NDA signed
Zonia
Urdu translator
5 years with Translate
NDA signed
Phong
Vietnamese, Thai editor
6 years with Translate
NDA signed
Meredith
Welsh translator
3 years with Translate
NDA signed
100% USCIS Acceptance Guarantied

100% ECFMG Acceptance Guarantied
Why Choose Our Business Translation Agency
Guaranteed affordability

Our highly automated processes allow us to offer high‑quality business translation services at a competitive price.

Unbeatable quality

We are committed to the highest quality standards and provide free revisions to every translated project.

Quick turnaround

Vast market expertise and optimized workflow allow us to deliver high‑volume translation orders in just a few hours.

Wide range of languages

With over 60 languages covered, we can provide translations in up to five linguistic pairs in one order.

Translation memory

We utilize the latest translation memory tools to speed up the translation process and save you time and money.

On‑demand services

In addition to translation services for business, we offer a range of on‑demand services. Please contact our support team to find out more.
General Data Protection Regulation
Payment Card Industry and Data Security Standard
Data Encryption and Access Control
Prices on Business Translation Service
START
For one-time orders or for testing our translation
No monthly payment
Unlimited words
ESSENTIAL
$0.06/word
$0.07/word overage
PRO
$0.05/word
$0.06/word overage
24/7 Support
Client Feedback
We've helped thousands of companies build proper communication with customers worldwide. Check what they are saying.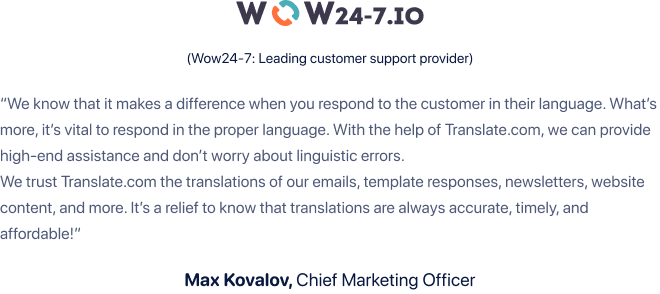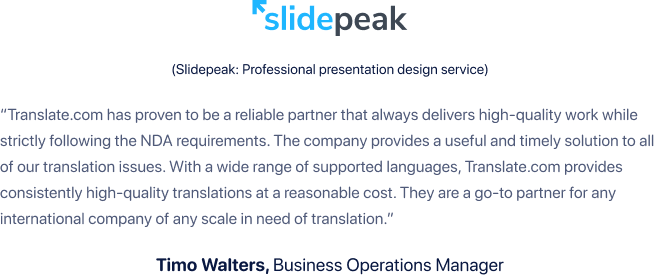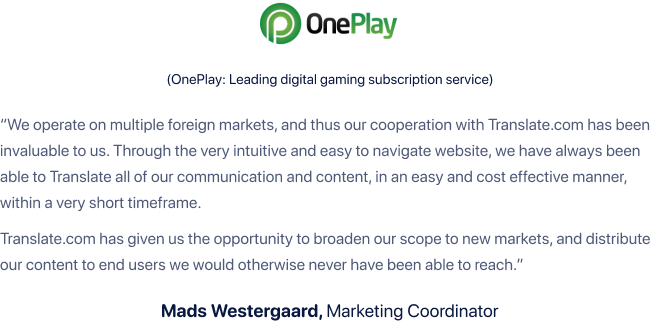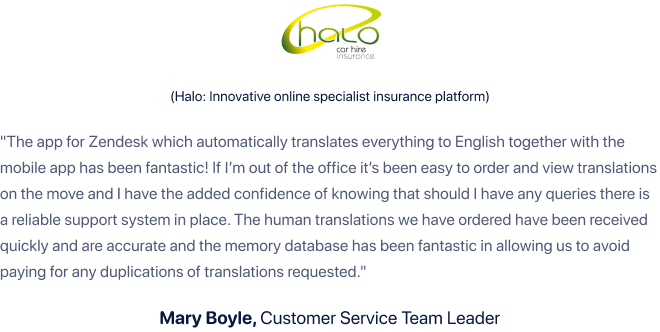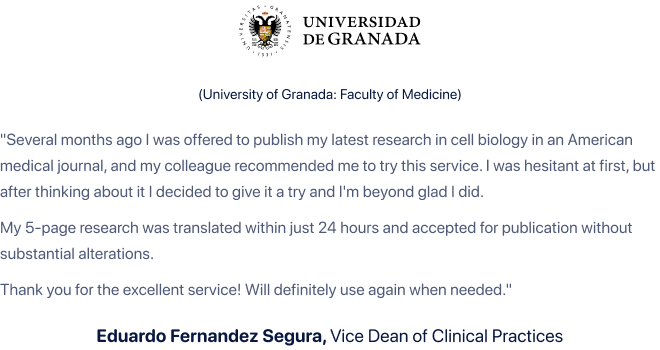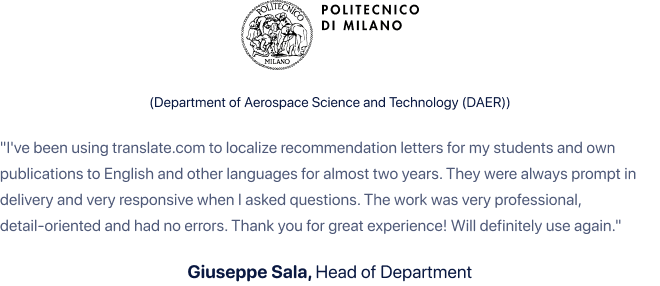 Volume discount: $0.04/word
Our Professional Business Translation Services
Advertising & marketing translation

We always have a qualified expert available to translate blog articles, brochures, press releases, or any kind of advertising campaign.

Website & SEO translation

We only use native translators with the domain expertise to ensure your website reads fluently and naturally and resonates with your clients.

Legal & finance translation

Our global translation team can help you understand proceedings better, access legal or financial advice, and make your views heard.

Technical translation

Whether you need a manual, software, or app translated, be sure it will be technically accurate and easy to understand.

Formal document translation

From research documents and business plans to scientific reports, our translator can transform your copy into whichever language you desire.

PowerPoint presentation translation

With our translation business services, your presentation project will be addressed in the most confidential and professional manner.
Other content translation
If you would like to find out more about other content types that we translate or need a custom solution, please contact us.
What is a business translation?
Business translation is a service that deals with different business documentation: guides, promo materials, presentations, website content, business offers, emails, and contracts. Translate.com provides business translation services of any difficulty, volume, and urgency.
None of the translation companies near me offer English to Chinese business translation services. Do you offer this service?
Translate.com offers professional business document translation services from English to Chinese and from Chinese to English. To translate a single text, please fill out the order form To translate a file, make a quote here.
It would be perfect if I could work with a professional business translator of English. Do you work with such a person?
At Translate.com, all translators are professional linguists. If you have any specific requirements in terms of the translator's qualifications, feel free to share them when making an order. In addition, you can request the same translator who worked on your previous order. Finally, we have a TOP translator service.
How much does business translation cost?
Business translation rates start from only $0.08 per word.
We need to localize our web content into Spanish. Could we trust you with such a project?
Translate.com offers professional Spanish translation and localization services using a modern API and batch translation. Please send us an outline of your project at, and our managers will come back with an individual translation roadmap.